Join us for the next edition of the Café des Entrepreneurs! This event will feature the 2023 cohort of NETVA as well as GENOSKIN, Inc.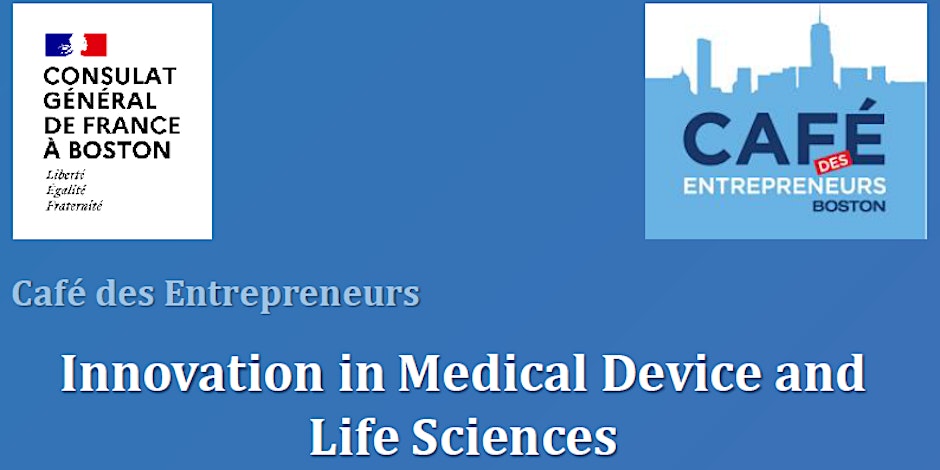 NETVA's Innovation in Medical Devices and Life Sciences!
Do not miss the next Café des Entrepreneurs! Come and share the experience of Pascal Descargues from Genoskin.
The event will start with a presentation of three early-stage startups that have been selected in the framework of the NETVA 2023 program organized by the Office for Science and Technology.
Myotact :
Myotact is a French start-up created in 2022 that is developing a wristband device aiming to improve the rehabilitation of people who have lost the use of their limbs. More than 12 million people worldwide suffer from strokes and three-quarters of them with varying degrees of limb paralysis. The wristband allows the acquisition of muscle activity coupled with haptic feedback while translating this activity into virtual movements via an application available with the device. The patient will be guided all along the rehabilitation process followed by a physician.
InSpek:
InSpek is developing a chemical sensing system for real-time, in-line monitoring of (bio)chemical processes. By providing greater insights into reactions, InSpek aims to improve processes and reduce the costs and delays associated with process development and manufacturing. InSpek's sensors are based on a patented optical chip technology for Raman spectroscopy. These sensors allow for real-time, sampling-free detection of a wide range of chemicals while being cheaper, smaller, and more sensitive than current in-line analytical methods. Since its start in 2021, the company has obtained close to $2M in funding, made several prototypes, and signed proof-of-concept study contracts with customers in several industries. After extensive testing at InSpek's facilities, the first on-site trials are scheduled for the second half of 2023.
Chipiron:
Chipiron is developing a new generation of portable ultra-low field MRI machines powered by patented quantum chips called SQUID. This imaging device is small (1 cubic meter), cheap (1/10th cheaper than today's MRI scanner), mounted on wheels, and does not require any shielding room. Chipiron's team is comprised of 15 physicists (13 PhDs), supported by the most prestigious French research organizations in physics & radiology. Since the beginning of the project in late 2020, Chipiron has raised $5M ($3.5M in equity, $1.5M in non-dilutive), has unlocked major milestones, has filed five patents, and has written two white papers. Chipiron is planning to file for FDA at the end of 2024.
Then, we will hear about a former NETVA laureate, a leader in skin biology and immunology.
Pascal Descargues is the CEO and founder of Genoskin with over 15 years of experience in developing and commercializing innovative skin model technologies as well as immunoprofiling services. He obtained his doctorate in pathophysiology from the University of Toulouse followed by a postdoctoral fellowship at the University of California San Diego, where he gained valuable experience in the field of skin research. Pascal also holds a master's degree in management from the Toulouse business school. As a researcher, Pascal had a groundbreaking idea in 2009 to utilize human skin samples that are typically discarded each year during plastic surgeries to help researchers discover new drugs and avoid animal experimentation, leading to the creation of Genoskin in 2011.
Genoskin is a biotech company based in Toulouse, France, and Salem, MA. that leverages non-clinical immunoprofiling testing to reduce the risks associated with drugs, vaccines, medical devices, or cosmetic actives development, providing earlier access to higher quality human data. Our innovative platforms utilize bio-stabilized and immunocompetent ex-vivo human skin samples obtained from diverse donor populations to evaluate the efficacy and toxicity of injected biotherapeutics. These human skin models are highly representative of in vivo conditions, allowing for more accurate and reliable testing of drug candidates. Genoskin employs advanced analytical technologies such as next-generation transcriptomics and multiplexed proteomics, combined with machine-learning and artificial intelligence to generate actionable human data. By doing so, we significantly reduce the costs, time, and risks associated with drug development, enabling more efficient and safer drug development.
This event will be moderated by Jean-Philippe Nicolaï, Attaché for Science and Technology at the Consulate General of France in Boston.
Schedule
Wednesday 10 May 2023
18:00 - 18:15
Registration
18:15 - 18:20
Introduction
- M. Mustafa Soykurt, Consul General of France in Boston
18:20 - 19:00
Pitch session by NETVA '23 laureates
- Myotact, Maxime Cavrois, CEO
- Chipiron, Evan Kervella, CEO
- InSpek, Jérôme Pichon, CEO
19:00 - 19:30
Presentation of Genoskin, Inc., and Q&A session
- Pascal Descargues, CEO
19:30 - 20:30
Networking event & Cocktail