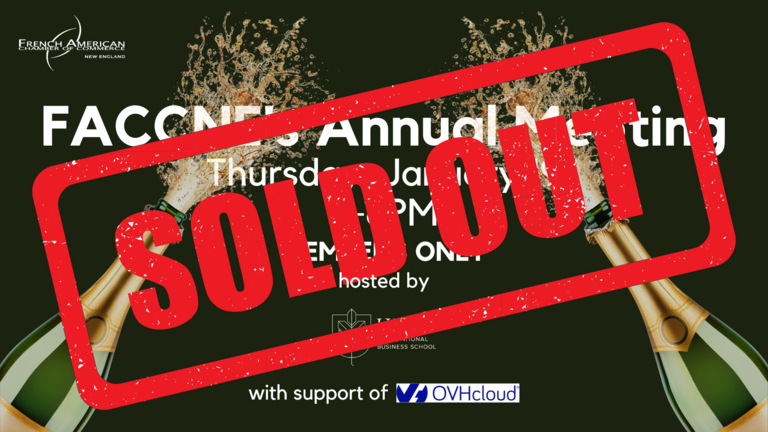 Patrick Bian, President, Jeffrey Plunkett, Secretary, Ludivine Wolczik, Executive Director and the Board of Directors of FACCNE cordially invite you to the 2023 Annual Meeting of Members on Thursday, January 19th at 6pm EST at Hult International Business School in Cambridge, MA. Light finger foods and Galettes des Rois will be served!
This is a Members-Only Event!
Admission is FREE for all FACCNE Members in good standing.
Renew your membership here or contact services(@)faccne.org
Members will have the possibility to vote in-person at the Annual Meeting or can vote online by noon EST on January 19 by clicking one of the 'VOTE' buttons in this invitation.
Agenda will include:
Opening Address by President, Patrick Bian
Address by Executive Director, Ludivine Wolczik
Votes by Secretary, Jeff Plunkett - Board Election
Introductions by New Candidates: Nicolas Briest, Stephanie Oestreich, Karen Pevenstein, Beatrice Thouveny & Jerome Urvoy
Learn more about the new candidates:
-
Nicolas Briest founded BE RELAX, the world's leading airport spa (50+ locations in the busiest hubs in Europe, Asia, North America and the Middle East).
He also founded ESPACE MUSEES, a non-profit organization showcasing (at Paris-CDG airport) real masterpieces from French national museums for passengers to view for free.
Nicolas co-founded Be Gourmet, offering premium food and beverage options to travelers.
43 years old, happily married and father of 2 toddlers, animal lover (owns an adorable French Bull dog and 2 rare cows), Nicolas studied business (and acting!) in France, Spain and the US. After 6 years in NYC and several months in LA, he has settled down with his family in Belmont, MA.
As a travel expert and true world citizen, he traveled to more than 60 countries and was lucky enough to have explored some of the most secluded places. Inherited a love of art and aesthetics from his father who founded Artcurial, the major French auction house.
-
Stephanie Oestreich is Chief Business Officer at Galecto and serves on the boards of the German American Business Council and the Harvard Kennedy School's Womens Network. She is also a member of the Launchpad Venture Group and an advisor at grIP Venture Studio and with the drug development and investment company OrangeGrove Bio.
Previously she was Vice President at cell therapy company Mnemo Therapeutics heading up operations and alliance management in the US and in Paris, a Venture Partner at RA Capital and Executive Vice President at Evotec where she built its North American investment arm and started an incubator with Samsara BioCapital.
She also worked as International Business Leader at F. Roche Hoffmann-La Roche Ltd., and for Novartis in Business Development and in Commercial in different geographies and therapeutic areas where she built teams and successfully launched 6 drugs in immunology and oncology.
Stephanie conducted the research for her Ph.D. in biochemistry in the lab of a Nobel Prize winner at Harvard Medical School and obtained an MPA from the Harvard Kennedy School.
As a semi-professional violinist, she performs with Philharmonic orchestras in Carnegie Hall and other international venues and conducts workshops with live orchestras, demonstrating the similarities between teams and leadership in music and management.
-
Karen Pevenstein is a strategic communications leader with more than 20 years of experience in public relations, brand marketing and broadcast journalism. She is also the founder of Louis Sel, the exclusive US distributor of specialty sea salt imported from Brittany, France.
Her consulting practice specializes in building communications/brand strategies and thought leadership platforms for B2B and B2C clients working across organizations and closely supporting C-suite leadership. A master storyteller spanning multiple industries including financial services, tech and lifestyle, she has a proven track record of elevating brands and reputations in Fortune 100 and startup settings.
Karen translated her passion for food and French culture to create her business, Louis Sel, which has been featured in the Boston Globe and Forbes. She is the 2019 winner of FACCNE's FAB Awards for Women in Business.
A Boston resident and member of FACCNE since 2018, Karen is currently co-chair of FACCNE's Women in Business Network.
-
Beatrice Thouveny is an accomplished senior international executive with 25+ years of marketing expertise and has a proven track record of results delivery.
She studied international business and communication in France and New Zealand and holds an MBA from ISCID in France. She speaks 6 languages.
After starting her career in France in consumer electronics she followed her path in different companies such as ACER, NEC and Samsung where she was marketing manager for over 10 years before moving to the US in 2013.
First in Chicago for 2 years, and then in Boston's south shore.
Today, she is CEO and partner of Tamtam-agency an international web & marketing agency. She also founded Baliostar LLC a marketing agency.
Beatrice is a board member of WhatcHelp and mentor in Women in Print.
Wife of Stanislas and mother of 2 young boys she is passionate about traveling, horse riding and skiing.
-
Jérôme Urvoy is Executive Vice President and Deputy Global Chief Financial Officer of Natixis Investment Managers, a pivotal role within a rapidly growing and changing multi affiliate organization, while building and managing a global team across key regions in the US, Europe and Asia.
Natixis Investment Managers is an American French-based global asset management company that claims €1.1 trillion in assets under management as of September 30, 2022. The company has headquarters in Paris and Boston, and it is the second biggest French manager by market share.
Prior to this role, Jérôme was the CFO for the international investment distribution business. In this role, he was responsible for overseeing financial and sales reporting for all non-U.S. distribution offices located in key markets around the world. He was also in charge of coordinating the assessment of new development initiatives.
Prior to joining Natixis Investment Managers in 2002, Mr. Urvoy was a financial controller at Gemalto, a world leader in digital security, and served as a senior financial auditor for MAZARS.
Mr. Urvoy holds a master's degree in management from Ecole Supérieure de Commerce de Marseille (Business School of Marseille).
Board Members up for re-election:
Nicole Ferry Lacchia,
Strategy and Financial Consultant,
Term: 2023-2026
Philippe Latapie,
Managing Director at StratX ExL,
Term: 2023-2026
Alban Maino,
CEO of Memory-Lane.tv and Dreamland Technology, Honorary Consul of France in Maine,
Term: 2023-2026
Loredana Sandu-Vieil,
Global Client Service Partner at EY,
Term: 2023-2026
Ami Wright,
Pega,
Term: 2023-2026
This year, 6 members are leaving our Board of Directors.
We would like to sincerely thank:
Thank you for your unwavering commitment, support and work! It was a real pleasure to work with you, thank you for contributing to the activities and development of the FACCNE. 🙏🏼
Special Thanks to Frederic Chartier, Campus Dean at Hult International Business School for hosting us.