"No one can do everything, but everyone can do something."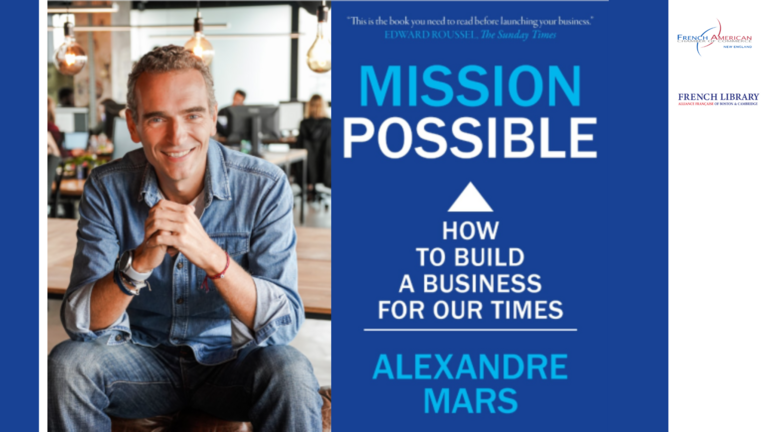 The French Library, with the support of FACCNE, is excited to welcome Alexandre Mars, successful French CEO and philanthrope, for a presentation of his book, "Mission Possible : How to build a business for our times''.

Alexandre Mars will discuss how to be a successful entrepreneur for those who want to give more, better, and smarter, so that they can empower and protect children, youth, and our planet. Each year, millions of people around the world take the leap to create and build their own businesses. Entrepreneurship is a powerful driver of positive change, if done the right way. Alexandre Mars, who started his entrepreneur career at the age of 17, has quickly realized that we do live in a world of solutions, and we have a collective responsibility to try and do better. His motto: No one can do everything, but everyone can do something.

The interview will be followed by a Q&A with a book signing and a glass of wine.
This event is presented in conjunction with the French Library.
ABOUT THE AUTHOR
Alexandre Mars began his career as an entrepreneur at the age of 17. Since then, he has successfully launched and sold several tech companies in Europe and the United States. In 2014, he created Epic, a global foundation that seeks to empower and protect children, youth and our planet. Alexandre Mars is also the Founder & CEO of Blisce, an investment firm committed to investing differently (Spotify, Pinterest, Headspace Health, Too Good To Go, and Brut.)

ABOUT THE BOOK
This book shows hopeful entrepreneurs how to lay solid foundations for success and build a business for tomorrow, with the important reminder that if money is the ultimate goal, you risk missing out on true fulfilment and happiness. Achieving success AND a higher mission is always possible. "Mission Possible : How to Build a Business for Our Times" was published by Nicholas Brealey Publishing (Hachette) on 10 November 2022.