Join us for an exceptional fireside chat with Dr. Nizzi!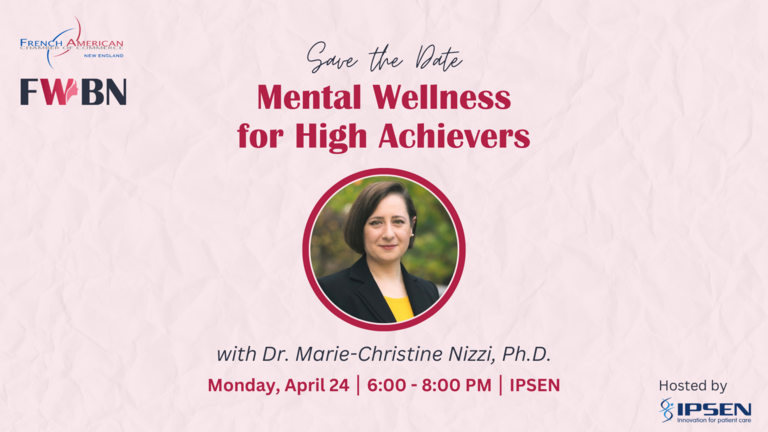 What Kind of "High Achiever" are you?

Do you try to step in to fix everything? Do you wear your "Type A" badge a little too proudly? From juggling deadlines, priorities and yes, perfection. As women, we often forget to take time out to care for ourselves- especially our mental well-being.

Join FACCNE'S Women in Business Network (FWBN) for an important conversation with Dr. Marie-Christine Nizzi, President of Harvard Alumni for Mental Health for "Wellness for High-Achievers."

From being stretched in multiple directions to striving for unrealistic perfection to cross-cultural impacts, this interactive and intimate session will provide specific tactics tailored for your own stressors. These simple steps will allow you take action and set yourself up for sustained wellness.

Dr. Nizzi will show you how to give yourself guilt-free grace without lowering your standards.

Come join the conversation!

Dr. Nizzi is the President of Harvard Alumni for Mental Health and the founder of the Professional Alliance, a network of culturally competent clinicians providing mental health services to clients all around the world.
An international specialist, Dr. Nizzi completed two PhDs: one from Harvard University and one from Paris I Pantheon-Sorbonne. She is a certified forensic evaluator with Physicians for Human Rights. Dr. Nizzi now trains future clinicians at top medical schools such as Harvard University, Dartmouth College, and UCLA.
Dr. Nizzi provides cutting-edge culturally and trauma-informed care with a specialty in supporting high achievers. A VA-trained and CPT Certified provider, she was named "2018 Harvard Horizons Scholar" for her work with U.S. Veterans and recipients of a face-transplant. Her research is regularly featured in the media.
Ipsen's vision is to be a leading global mid-size biopharmaceutical company, with a focus on transformative medicines in three key therapeutic areas: oncology, rare disease and neuroscience.
At Ipsen, they are dedicated to improving people's lives and health outcomes. Their 5,000 employees around the world are committed to tackling areas of high unmet medical need to improve the quality of life of patients and caregivers.