Come and learn more about our new members!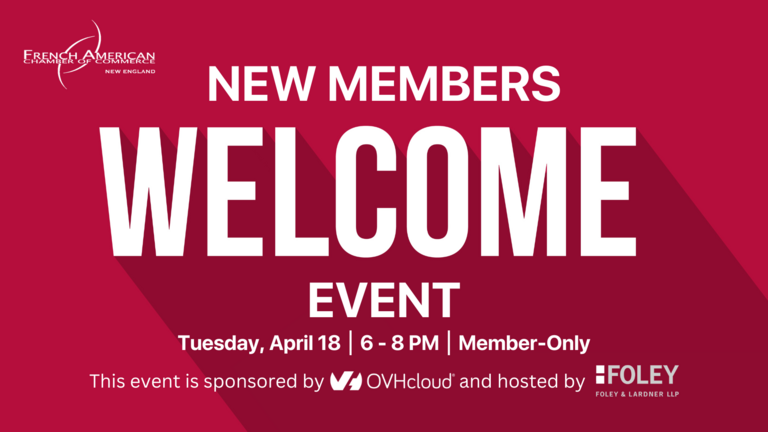 Join us on April 18th from 6 to 8PM for our New Members Welcome event at Foley and Lardner! 🤝
Our new members will have the opportunity to pitch their company, present their activities, and meet other FACCNE members during a networking moment.
For the moment, the confirmed speakers are:
If you are not a member of FACCNE and would like to attend this event, no problem, there is still time to become a member! 😉


Thank you to OVHcloud for supporting this event!
OVHcloud US is a subsidiary of OVHcloud, a global player and Europe's leading cloud provider operating over 400,000 servers within 33 data centers across four continents. For 20 years, the Group has relied on an integrated model that provides complete control of its value chain from the design of its servers to the construction and management of its data centers, including the orchestration of its fiber-optic network. This unique approach allows it to independently cover all the uses of its 1.6 million customers in more than 140 countries. OVHcloud now offers latest generation solutions combining performance, price predictability, and total sovereignty over their data to support their growth in complete freedom.
Thank you to Foley & Lardner for hosting this event!
Foley & Lardner LLP is a preeminent law firm that stands at the nexus of the energy, health care and life sciences, innovative technology, and manufacturing sectors. They look beyond the law to focus on the constantly evolving demands facing their clients and act as trusted business advisors to deliver creative, practical, and effective solutions.
Their 1,100 lawyers across 25 offices worldwide partner on the full range of engagements from corporate counsel to IP work and litigation support, providing their clients with a one-team solution to all their needs. For nearly two centuries, Foley has maintained its commitment to the highest level of innovative legal services and to the stewardship of their people, firm, clients, and the communities they serve.