Join us for an event that will highlight innovative companies and investor strategies in global sustainable business.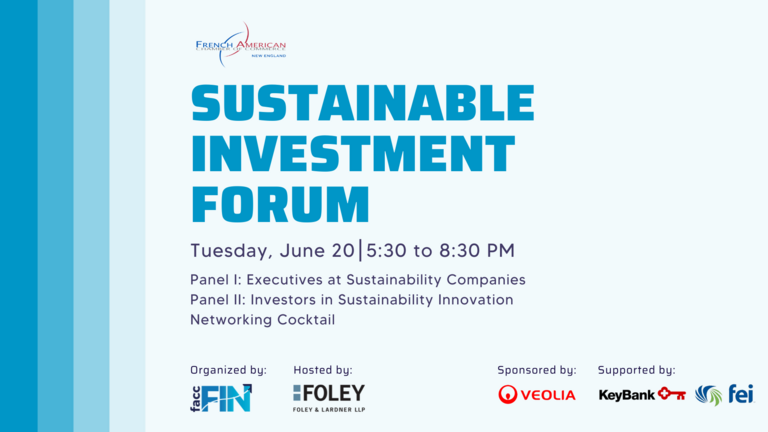 On Tuesday, June 20 from 5:30 to 8:30 PM,
join us for a panel discussion that will highlight innovative companies and investor strategies in global sustainable business.

Our first panel will bring Senior Executives at Innovative Companies Together,
while the second will bring Investors in VC, Private Equity, and Institutional Asset Management.

You will then enjoy drinks and light finger food
while networking with peers.
Schedule
Tuesday 20 June 2023
17:30 - 18:00
Arrival and Early Networking reception
18:00 - 18:10
Opening Remarks

- Ludivine Wolczik, Executive Director, FACCNE
- Louise Roussel, Organization Committee Leader, FACCNE (FACC'Fin Chair)
18:10 - 18:40
Panel I: Executives at Sustainability Companies

Moderator:
- Frederic Clerc, Director of the Carbon to Value Program at Urban Future Lab / ACRE at NYU Tandon School of Engineering

Speakers:
- Laurent Canneva, CEO & Co-Founder, Spare-it
- John Dvor, Executive VP Corporate Development, Pluri
- Amin Najjar, President & CEO Facilities & Building Services, Veolia North America
18:40 - 18:50
Q&A
19:00 - 19:30
Panel II: Investors in Sustainability Innovation

Moderator:
- Benjamin Stone, GC & COO, Cultivo

Speakers:
- Dr. Michael Campos, Investor, Energy Impact Partners
- Amy Franzen, Co-Head of US Originations - Sust. Finance at HSBC
- Dr. AJ Perez, President at Grow Clean
19:30 - 19:40
Q&A
19:40 - 20:30
Networking Reception
Thank you to Veolia for sponsoring this event!
Veolia Group aims to be the benchmark company for ecological transformation. With nearly 220,000 employees worldwide, the Group designs and provides game-changing solutions that are both useful and practical for water, waste and energy management. Through its three complementary business activities, Veolia helps to develop access to resources, preserve available resources and replenish them.
Thank you to Foley & Lardner for hosting us!
Foley & Lardner LLP is a preeminent law firm that stands at the nexus of the energy, health care and life sciences, innovative technology, and manufacturing sectors. They look beyond the law to focus on the constantly evolving demands facing their clients and act as trusted business advisors to deliver creative, practical, and effective solutions.
Their 1,100 lawyers across 25 offices worldwide partner on the full range of engagements from corporate counsel to IP work and litigation support, providing their clients with a one-team solution to all their needs. For nearly two centuries, Foley has maintained its commitment to the highest level of innovative legal services and to the stewardship of their people, firm, clients, and the communities they serve.
Thank you for sponsoring this event!
Event Location