Join FACCNE's HR Forum for an insightful conversation!
The Science & ROI of Why ERGs are Necessary Now
Employee Resource Groups (ERGs and the many other names they go by) are not a new workplace construct but are far from the informal social clubs they used to be. Today's employee groups have governance, accountability, and funding. They notably help recruit and retain critical talent, develop a leadership pipeline and improve product innovation, market identification and customer support.
However, many executives are still skeptical about investing the organization's human and financial resources to support the growth of employee groups. This session will explain what employee groups are, how they operate and why so many organizations now consider them a critical competitive advantage. Alyssa Dver, Founder of ERG Leadership Alliance will be our speaker while Clifford Watkin will be moderating.
📅 Thursday, June 8
⏰ 6 - 8PM
📍 Hybrid event ⎮ CIC Cambridge or Zoom
🎟 https://faccne.cividesk.com/civicrm/
Many thanks to Circle Strategies for sponsoring FACCNE's HR Forum and supporting this event!
Speaker(s)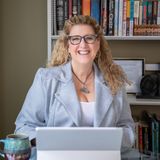 Thank you for sponsoring this event!
Event Location