Event report
Life Sciences Panorama - Part 2: In-Person Panel Discussion & Networking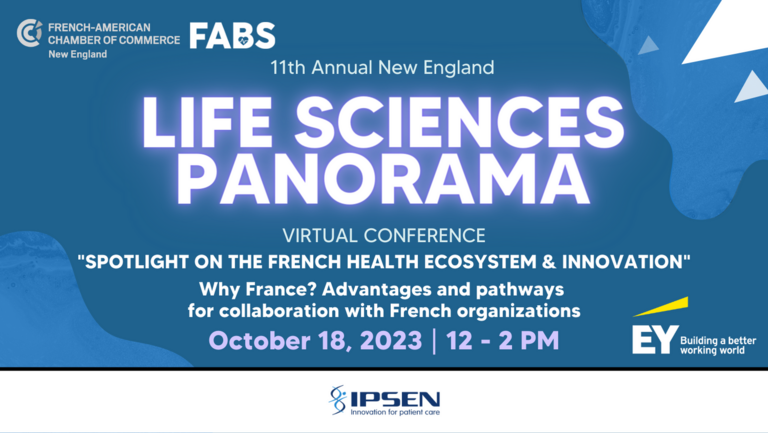 Spotlight on the French Health Ecosystem & Innovation

Part Two: In-Person Panel Discussion & Networking
Theme: "How can global health innovation benefit from transatlantic partnerships? Shared experiences from key players in the ecosystem"
FACCNE and FABS are pleased to invite you to the 11th edition of the Annual Life Sciences Panorama on the theme: SPOTLIGHT ON THE FRENCH HEALTH ECOSYSTEM & INNOVATION
Date and Time: 6 pm EST
Format: In-Person Panel Discussion & Networking
Location: Boston Back Bay
Co-organized with our partner Business France North America
Description: In the second part of the event, industry leaders from the French and global healthcare sectors will gather for an in-person panel discussion and networking. The focus will be on the transformative potential of collaborations between the French health ecosystem and international players. Attendees will have the opportunity to engage in enriching discussions, learn from the shared experiences of key players, and explore ways to leverage transatlantic partnerships for driving innovation in global health.
- Opening Keynote Speaker -
This evening program in the heart of Boston will be opened by Dr. Susan Garfield, EY Americas Chief Public Health Officer and Global Client Service Partner. With leadership perspective from the Life Sciences Consulting and Strategy teams, Susan will take a bird eye lens to shed light on major and recent trends on global health innovation.
Susan Garfield's Biography: Dr. Garfield is the Chief Public Health Officer and Global Client Service Partner at EY. She has been in the strategic management consulting industry for over 25 years, focusing on Health and Life Sciences strategy, transformation, and value creation. She is also co-director of EY's Center for Health Equity, working to help public and private sector stakeholders drive meaningful change for underserved and minority populations. Prior to joining EY over 8 years ago, Dr. Garfield was Executive Vice President and Health Strategy Lead at GFK, and prior to that had various leadership roles in several Biotech and Consulting organizations. Dr. Garfield is Chair of the Boston University School of Public Health, Dean's advisory board. She lives outside Boston, with her husband Steve and two daughters Maya and Lily.
- Panel Discussion -
Join us for an engaging in-person panel discussion as we explore France in the context of global health innovation with examples of transatlantic research and business partnerships.
How do transatlantic partnerships contribute to the global health ecosystem?
How can bridging the gap between the French health ecosystem and international players foster innovation that transcends borders?
What are the cross-cultural dynamics, benefits, and challenges?
What are lessons learned and best practices by leaders shaping the landscape of global health innovation?
Romain Marmot's Biography: Romain Marmot is Chief Business Officer of Aptar Digital Health, a global leader in end-to-end digital solutions that enhance patient experiences. Prior to his current role, he was co-founder of Voluntis, a pioneer of digital therapeutics, acquired by AptarGroup in 2021. Romain has 20 years of experience in digital health for the pharma industry. He is the former President for New England of the French Foreign Trade Advisors and currently leads their Life Sciences group in the US. Romain is a graduate of CentraleSupelec (University of Paris-Saclay) in applied mathematics.
Chris J. Vlahos's Biography: Chris J. Vlahos, PhD joined Ipsen in November 2018 as Global Head of Rare Disease External Innovation (EI). Chris leads EI efforts to identify and evaluate innovative external opportunities in Rare Disease, as well as the development and implementation of an External Innovation strategy in these areas.
Chris has more than 30 years of experience in pharmaceutical research across a broad range of therapeutic areas including 15 years in external innovation and due diligence. Chris started his career at Lilly Research Laboratories where he held various positions of increasing responsibilities in Cardiovascular Discovery Research. In 2008, he was named Director, External Innovation-Endocrine where he was responsible for identification, and scientific and technical evaluation of in-licensing and M&A opportunities in multiple therapeutic areas. Prior to joining Ipsen, Chris provided independent consultation on preclinical drug discovery, development and strategy, due diligence and business development in diverse therapeutic areas.
Chris holds a BS (cum laude) in Chemistry from Santa Clara University, and a Master of Science and a Ph.D., both in Biological Chemistry from the University of Michigan.
Susan Chase's Biography: Susan Chase is the Senior Vice President Business Development for BioLabs, an internationally recognized developer and operator of shared laboratory platform for life science start-ups. Miss Chase leads the innovation consulting practice, domestic and international expansion, and development of strategic partnerships. Before devoting herself fulltime to supporting the amazing innovative companies in the BioLabs' network, Susan served as the Director of Collaborative Services at MASCO, the planning organization for the Longwood Medical Area in Boston where she led contract negotiations on behalf of the hospital and academic institutions. She has also held key operational roles directing multi-national property and facilities and risk management projects including managing aspects of the diligence process for Steward Healthcare during the Cerberus acquisition. Susan is based in the BioLabs Cambridge headquarters.
Fabrice Bocquilon's Biography: Fabrice is focused on delivering against Sanofi digital priorities for Specialty Care, continuing to build a world class team and bring thought leadership to the larger digital community. For the past few years, Fabrice has been leading the deployment of new digital capabilities to accelerate the modernization of our patient support services and has demonstrated the value of having a patient centric vision in the successful delivery of our treatments. Fabrice has a Master in Chemical Engineering and a Master in Automation. He started his digital career at CortecNec, a B2B start-up, moved to Web Marketplaces development with Degetel and has been at Sanofi for the past 20 years in a variety of positions in Digital Sales & Marketing, R&D, Corporate, Merger & Acquisitions.
Nader Yaghoubi's Biography: Nader Yaghoubi, M.D., Ph.D., is Co-Founder and CEO of PathMaker Neurosystems. He has over 20 years of experience in the creation, operations and financing of life science companies, and established PathMaker to pioneer a new approach to restoring damaged neural pathways. Recognizing the importance of a trans-Atlantic approach for this technology, he established a subsidiary in France and a collaboration with leading researchers at the renowned Paris Brain Institute. At PathMaker, he serves as Principal Investigator on a NIH-funded stroke trial and a recently launched ALS trial funded by Muscular Dystrophy Association (MDA). He has led the company to a number of international awards (including YEI Laureate, FACCNE's French-American Business award and CCI France Innovation Award). He previously co-founded and served as CEO of Symbiotix Biotherapies, and was the first employee at Selecta Biosciences (Nasdaq:SELB) and BIND Therapeutics (Nasdaq:BIND). Earlier, he was at Zero Stage Capital and completed an internship at Advent International. He completed a Fellowship in Health Care Entrepreneurship at Boston University, and served as a resident in the Department of Surgery at Lenox Hill Hospital. Dr. Yaghoubi received an M.D. and Ph.D. in Molecular Pharmacology from the combined degree program at Boston University School of Medicine, and did his undergraduate studies in Biochemistry at the University of Arizona. He is extensively involved in mentoring young companies, and has served/serves as a mentor, advisor and reviewer with MBC's MassCONNECT program, Mass Life Sciences Center programs and numerous international and university business plan competitions.
- Closing Remarks -
The 2023 Life Sciences Panorama will be closed by Dr. Arda Ural, EY Americas Industry Markets Leader & Principal, Health Sciences & Wellness. Being one of the authors of the 33rd Edition of Beyond Borders: EY's Biotechnology Report 2023, Arda will provide a deep dive into the state of the biotech industry and its financial performance, deal environment and other metrics.
The closing remarks will be followed by a Networking Cocktail!
Arda Ural's Biography: Arda Ural, Ph.D., is the EY Americas Industry Markets leader for EY's Health Sciences and Wellness Practice. He has nearly 30 years' experience in pharma, biotech, and medtech, including general management, new product development, corporate strategy, and M&A. Prior to joining EY, he was a managing director at a strategy consulting firm and worked as a VP of strategic marketing and a BU lead at a medtech company. Ural holds a Ph.D. in general management and finance and an MBA from Marmara University in Istanbul, as well as an MSc and BSc in mechanical engineering from Boğaziçi University.
Warmest Thanks to EY for hosting & sponsoring this event!