Event report
Life Sciences Panorama - Part 1: Virtual Conference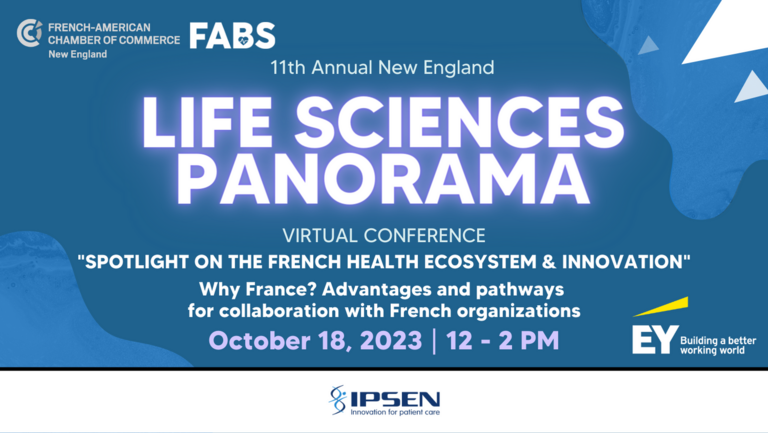 Watch again Part 1 of the 11th Edition of the Life Sciences Panorama! Access to the Recording Virtual Conference is open to all.
Spotlight on the French Health Ecosystem & Innovation


FACCNE and FABS are pleased to invite you to the 11th edition of the Annual Life Sciences Panorama on the theme: SPOTLIGHT ON THE FRENCH HEALTH ECOSYSTEM & INNOVATION

Description: This part will shine a spotlight on the robust French health ecosystem, unraveling its unique advantages and pathways for global collaboration. Participants will gain valuable insights into how the French healthcare industry fosters innovation and discover exciting opportunities for cross-border partnerships that drive positive change in the healthcare landscape.
On FACCNE's YouTube Page, you can find a recording of the Life Sciences Panorama - Part 1: Virtual Conference:
🔹 Part 1 (Beginning) - Gigi Shafai, Pharm.D.'s insights on the potential for American companies to engage with the French healthcare ecosystem.
🔹 Part 2 (08:27) - Panel discussions featuring Stéphanie Allassonniere, Camille Tribout, Olivier Nosjean, and Peter Cornelius, focusing on French academic landscapes and partnerships with French companies.
About the webinar:
Join us for an insightful panel discussion on the landscape of Life Science Innovation in France! The spirit of this dialogue is to highlight French innovation in healthcare from several perspectives including corporate, incubator, academic, and research institute lenses and to foster transatlantic discussions.
Are you interested to learn how France fosters an ecosystem that nurtures innovation, research, and international collaborations?
Why does France stand as a hub for advancements in the field of Life Sciences?
Have you ever wondered how to begin your strategy in the top 5 EU countries? Have you ever thought of France for your life sciences organization?
What are the major research and academic centers in France, and how can you connect with French researchers?
Are you considering having clinical trial sites in France?
How do global pharmaceutical companies create partnerships in France? How does a US start-up connect with French entities?
Dr. Gigi Shafai's Biography: Dr. Gigi Shafai has over 17 years of experience in the life science industry, having worked across therapeutic areas and departments at leading companies. Leveraging her diverse multidisciplinary biopharma and pharmacy background, she has worked in highly matrixed cross-functional settings during business transformation periods and through corporate alliances.
Since earning her Pharm.D. from Northeastern University and completing a Fellowship in Clinical Study Management which advanced her knowledge of clinical development and regulatory processes, Gigi has built a career rooted in Medical Affairs, filled with dynamic experiences in headquarters, field-based and leadership capacities in various disease areas, with multiple product launches and products in all stages of development and commercialization. She is multilingual, has worked in Paris, NYC, Washington DC and Boston, and has scientifically represented organizations while covering renal, gastrointestinal, hepatic, neuromuscular and neuropsychiatric conditions.
Gigi's leadership in all aspects of Medical Affairs has impacted all stages of the product lifecycle at multiple companies. She avidly connects dots between ecosystems, disciplines and people in order to advance innovation and improve delivery of healthcare. After over a decade in the biotech and pharmaceutical industries, Gigi has since been pushing boundaries at the forefront of the digital health revolution with groundbreaking efforts on prescription digital therapeutics, and has recently joined as Vice President of Medical Affairs & Digital Transformation at TransPerfect Life Sciences.
She also serves as Co-Chair of the Life Science Forum at the French-American Chamber of Commerce of New England, where she mentors start-ups and orchestrates hybrid educational programming to bridge the gap between French and US healthcare initiatives and companies. For years, Gigi has supported and volunteered at Boston's French Library and with the French-American Chamber of Commerce of New England.
Olivier Nosjean's Biography: Olivier Nosjean is currently responsible for building synergies between Servier and the stakeholders of health science and innovation. A biochemist by training, he has a broad experience of leading innovation initiatives to support drug discovery and development activities. He has established a range of public/private collaborations throughout the world, focused on therapeutic innovation and on scientific and technology expertise. In his history of supporting innovation at the interface between Servier and its ecosystem, his achievements include the creation of the R&D Program of Technology Innovation at Servier, the Servier Program for PhD and Post-docs, and Spartners by Servier & BioLabs, an innovation space and program to support health entrepreneurs. Olivier Nosjean is fully committed to creating value at the interface between Servier and the public and private actors driving innovation for patients.
Stéphanie Allassonnière's Biography: Stéphanie Allassonnière is Professor of Applied Mathematics at the School of Medicine, Université Paris Cité and University's Vice-President in charge of research economical transfer and industrial partnerships. She obtained her PhD in applied mathematics in 2007, and then spent a year as a postdoctoral fellow at the Center for Imaging Science at Johns Hopkins University, Baltimore. She then joined the Applied Mathematics department at Ecole Polytechnique in 2008 as an assistant professor and moved to the School of Medicine at Université Paris Descartes in 2016 as full Professor, (now Université Paris Cité). Her research focuses on the statistical modelling of medical databases to understand the common characteristics of populations and their variability, and to design classification, early prediction, and decision support systems. This research was granted a PR[AI]RIE chair and she is also deputy director in charge of Health in this AI institute. She is involved in a range of medical and engineering training courses and is deputy director of the AI and Health department at the UPCité medical school, which runs the DU in AI and Health. She is also co-founder of Sonio, a start-up offering a support tool to help practitioners monitor pregnancy, women's, and children's health, and reassure families.
Camille Tribout's Biography: "Graduated from ESSEC Business School and law graduation, I developped strong skills on international alliances and teams management, change management, P&L and strategy.
Passionated by ambitious and complex challenges, I launched my carrer by management of real estate assets, with the leading of an integration following M&A.
Excited by new challenges, I moved my professionnal career to life sciences and healthcare innovation as industrial collaboration and patent licensing manager.
Great opportunity to lead transformation of post-contract roles by financial management and management of invention & innovation transfers but also by creation of a new team dedicated to alliances management at a strategic level".
Dr. Peter Cornelius Biography: Dr. Cornelius obtained his BA in Biology from Skidmore College and his Ph.D. in Biochemistry from East Carolina University School of Medicine, where he studied the intersection of the innate immune system and metabolic systems in the regulation of carbohydrate and lipid metabolism. He then conducted post-doctoral research at Johns Hopkins University School of Medicine on the development and biological functions of adipose cells.
Dr. Cornelius then moved to the Department of Cardiovascular, Metabolic and Endocrine Diseases at Pfizer, where he led teams that identified clinical candidates targeting diverse pathways impacting dyslipidemia, obesity and type 2 diabetes.
Dr. Cornelius currently oversees the pre-clinical biology and translational research at SynDevRx and is responsible for managing the Company's outsourced experiments, (through CROs), analysis and presentation of pre-clinical as well as clinical data guiding clinical development strategy.
SynDevRx is a clinical stage company developing therapeutics to treat cancers whose growth and metastasis is accelerated by host metabolic dysfunction. The Company's lead drug candidate, SDX-7320, is the first drug in clinical development that specifically targets cancer patients who also suffer from metabolic dysfunction. Dr. Cornelius has published extensively in peer-reviewed journals and has frequently presented at both national and international conferences.
- Closing Keynote -
This virtual panel discussion will be followed by a closing keynote presentation by the renowned Dr. Alexis Genin (Head of Research & Technology Development, Paris Brain & Spine Institute) who will explain how the Paris Brain Institute (ICM) combines scientific creativity and therapeutic purpose to develop emerging technologies in genomics, precision medicine, and neurology.
Alexis Genin's Biography: A neurobiologist by training, Alexis Génin's research curriculum was performed first with Smithkline-Beecham (now GSK) and then EISAI. He then operated the international growth of a French-based genetic diagnostic SME and its tech acquisition strategy. He later participated in the launch of Inserm's private subsidiary for technology transfer and seed- funding of start-ups. At Paris Brain Institute, he created a 25 person-strong team of business and tech experts, tasked with operating a gene therapy research unit, a drug-screening platform, a hospital living-lab for medtech development and 3 start-up incubators.
Warmest Thanks to EY for sponsoring this event!